Shop Rainbow Loom
Shop our Colorful Collection of Rainbow Loom 
Rainbow was invented Cheong Choon Ng but it was two young girls who helped the bracelet making kit become popular. They were making bracelets our of small colorful rubber bands on the boardwalk in New York. Young girls and parents overflowed the line with money in hand ready to purchase.  Now Rainbow Loom is one of the most popular bracelet making kits for young and teenage women. 

The Original Rainbow Loom Bracelet Craft Kit 
1 Rainbow Loom 

1 Mini Rainbow Loom 

1800 Latex Free Rubber Bands 

Display Rack

A Metal Hook

75 C-Clips 

12 Gift Bags 

8 Instructions 

All in One Kit! 
The Kit includes instructions that will help your child create bracelets, necklaces, and more with instructions from easy to advanced design templates. This perfect gift also comes with Cotton Candy Bands, Confetti Bands, and Mixed color of bands to create the perfect combination of bands for their creation. 
The Original Rainbow Loom Rubber Bands Crafting Kit 
This kit is a great way to get a kid started with making their own bracelets and designs. The original Rainbow Loom rubber bands crafting kit includes all of the following: 
1 Rainbow Loom 
1 Mini Rainbow Loom 
600 Latex Free Rubber Bands 
A Metal Hook 
25 "C" Clips 
12 Gift Bags 
1 Set of instructions 
This starter kit won "The Best Toy Award" 2014 and is still popular among young, creative minds! 
The Rainbow Loom Loomoji Friendship Bracelet Kit 
The Loomoji Friendship Bracelet making kit is the best way to make your own unique friendship bracelets for two inseparable BFFs. This Kit includes 
1 Rainbow Loom 
1 Hook
132  GLOW IN THE DARK Charms
600 Latex Free rubber Bands
24 E-Clips 
12 Gift Bags 
Instructions
This set allows you to wear a personalized bracelet with your own name, the word besties with hearts or smiley faces, along with other letters and shapes.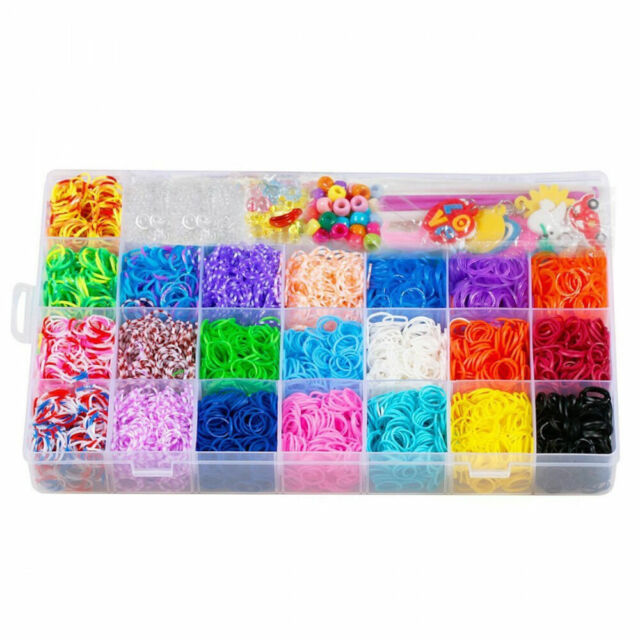 Visit us today or Shop Rainbow Loom from the our best-selling Rainbow Loom products listed below!